Louisville Vehicle Transport Companies | Get A Free Vehicle Transport Quote | Save 30% Compared To Our Competitors
---
Our Local Louisville Vehicle Transport Office
We Help Customers Ship Their Car To/From The Louisville, KY Area & We Ship Vehicles Anywhere In The United States
Phone: (502) 576-9444
---
Hours of Operation
Monday – Friday from 9:00am – 8:00pm
Saturday & Sunday from 9:00am – 5:00pm
---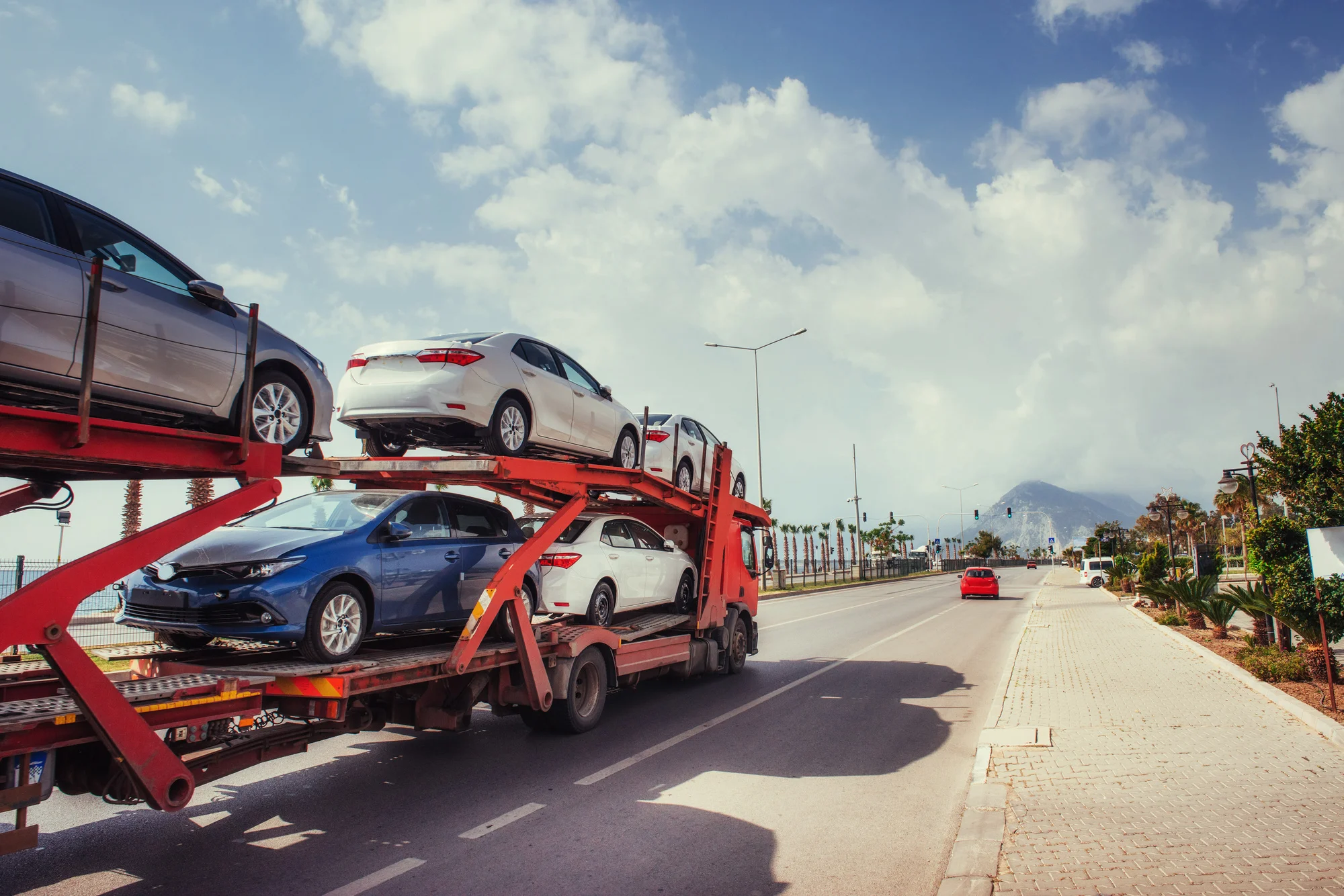 How To Ship A Car To/From Louisville, KY | Louisville Vehicle Transport Companies
Are you looking for the best Louisville vehicle transport company to help ship your car? If so, you have come to the right place. Here at Vehicle Transport Services | Louisville, we can get your vehicle to where it needs to be and ensure it arrives safe and secure at its destination. We understand that shipping your vehicle can be a stressful process, which is why we do everything we can to make shipping your car hassle-free. Whether you're looking to ship a car to/from Louisville, KY we hav the right solution for you.
Vehicle owners in Louisville, Kentucky, trust us to get their precious cargo delivered to destinations across the United States on time and in perfect condition.
How To Ship Your Car
If you have never shipped a vehicle before, you may be wondering how the process works and how you can ensure your car gets to where it needs to be without needing to drive it there yourself. Here is how to ship your car using a Louisville vehicle transport company:
Search for quotes
Getting quotes from a few different auto transport companies is essential to ensure you pay a reasonable price and get the best service. It is advisable to get three quotes so that you can compare what each company is offering.
When you choose Vehicle Transport Services for your auto transport needs, we will take care of obtaining quotes on your behalf. We will provide you with between three and five quotes so that you can make an informed decision on which company to use.
Select your shipping type
Once you have chosen a Louisville vehicle transport company to take care of shipping your car, it is time to select the shipping type. There are three main shipping options to choose from, and the one you select will depend on how much you are prepared to spend on shipping your car, as well as the level of protection you would like for your vehicle. The three shipping methods are:
Open carrier transport
Covered carrier transport
Enclosed carrier transport
Our Auto Transport Services
Understanding what the different vehicle transport services mean and how they are different from each other will enable you to decide which one is the best choice for your vehicle.
If you are looking for a quick and easy way to move your vehicle, then open vehicle shipping is an excellent choice. Your vehicle will be loaded onto a transporter with other cars when using this low-cost vehicle transportation option.
Covered vehicle shipping
Covered shipping offers vehicle shipping on a covered transporter, so it provides more protection for your car than open vehicle shipping. Choosing covered shipping is slightly more expensive than open vehicle shipping.
Enclosed vehicle shipping
Are you transporting a rare vehicle or a classic car? Classic cars, in particular, require extra care and attention to keep them in their best condition, so choosing the enclosed vehicle shipping method is a perfect choice. Your car will receive protection from the elements and be carefully transported using the enclosed vehicle shipping option. Enclosed vehicle shipping is the most expensive way to transport your car, but it does offer the most protection.
Car delivery options
As well as selecting your preferred transportation method, you can also choose your delivery method. There are two different delivery options available:
Terminal-to-terminal delivery
Terminal-to-terminal is the cheapest delivery option. When you select this option, you will need to drive your vehicle to a terminal, where it will then be taken to a loading bay and driven onto the vehicle transporter along with the other cars that are making the journey. Once your vehicle arrives at its destination, it will be unloaded, and it will need to be collected within a pre-arranged time frame.
If you would like the entire car shipping process taken care of for you, door-to-door delivery will ensure this happens. Your vehicle will be collected directly from you before being shipped and delivered to the door at its destination. This delivery option will cost you more than terminal-to-terminal delivery, but it is worth it if you are looking for convenience and don't mind paying a little more.
Why choose Vehicle Transport Services to transport your car in Louisville, KY?
We will be with you every step of the way to ensure transporting your vehicle is a stress-free process. Here is why customers choose us to transport their cars in Louisville, KY:
We make shipping vehicles simple
With no need to worry about the rising cost of fuel or putting unnecessary miles on your car, having your vehicle shipped is a more cost-effective and less stressful choice.
5-star reviews from satisfied customers
We have helped many satisfied customers to transport their cars over the years, and we are proud to have received 5-star reviews on Google and Facebook.
Trusted auto transport carriers
With many years of experience helping customers to transport their vehicles, you can depend on us to get your vehicle to its destination on time and in perfect condition. We vet our carriers which means they all offer the highest level of service and can be trusted to get your vehicle where it needs to be in perfect condition.
Meets industry regulations
Every auto transport company we work with meets the required Department of Transportation and FMCSA industry regulations.
Up to 30% cheaper than competitors
When you receive your quote from us, you will notice we are up to 30% cheaper than our competitors, so you get all the benefits of the best service when transporting your vehicle while paying a reasonable price.
Commitment to customer service and 100% satisfaction
Ship your vehicle without the stress and without wasting your time sitting in Louisville traffic congestion and traveling thousands of miles to deliver your vehicle. Instead, you can relax knowing that the hard work is being taken care of for you and your car is safely on its way to its destination.
Get your FREE Quote
Receive your free vehicle transport quote in seconds or call 866-700-1840 to discuss your Louisville vehicle transport needs with our helpful team.
Common Routes To/From Louisville, KY
Auto Transport To Baton Rouge, LA
Shipping A Car To/From Buffalo, NY
Vehicle Transport To/From Chicago, IL